Wallace


Redakteur/Co-Administrator




Registration Date: 21.08.2002
Posts: 5,059
Herkunft: Montreal



| | |
| --- | --- |
| Windows 2000/XP: Verzeichnis für Downloads festlegen | |
---
Verzeichnis für Downloads festlegen



Es ist schon lästig, jedes Mal das Verzeichnis angeben zu müßen, wenn man etwas aus dem Internet herunterlädt.
Nun kann man dieses Verzeichnis aber so einstellen, daß es künftig ein Kinderspiel ist, die Dateien an den richtigen Ort zu laden.
Dazu bemühen wir unseren Registrierdatenbankeditor per Start ->Ausführen >Regedit.exe und bestätigen die Eingabe mit Enter.
Anschließend navigieren wir zu folgendem Pfad:


HKEY_CURRENT_USER\Software\Microsoft\InternetExplorer


Hier angekommen markieren wir im linken Teilfenster "InternetExplorer" und klicken im rechten Teilfenster dann auf den Eintrag "Download Directory".
Diesen Eintrag können wir nun nach Belieben so anpassen, daß nach einem Neustart alle Dateien, die wir herunterladen genau dort gespeichert werden.

In unserem Beispiel sieht so aus: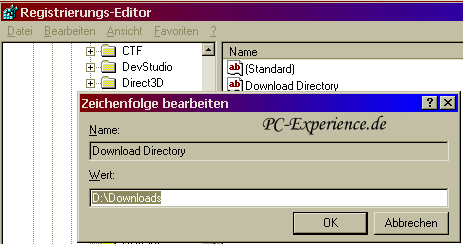 Nun sollte es keine Suchaktionen nach dem Herunterladen von Dateien mehr geben.


Wallace

__________________
Outside of a dog, a book is man's best friend. Inside of a dog, it's too dark to read

Unsere Suchfunktion, unsere Artikel und Tests, unsere Forenregeln , Kein Support über E-Mail oder PN ! .